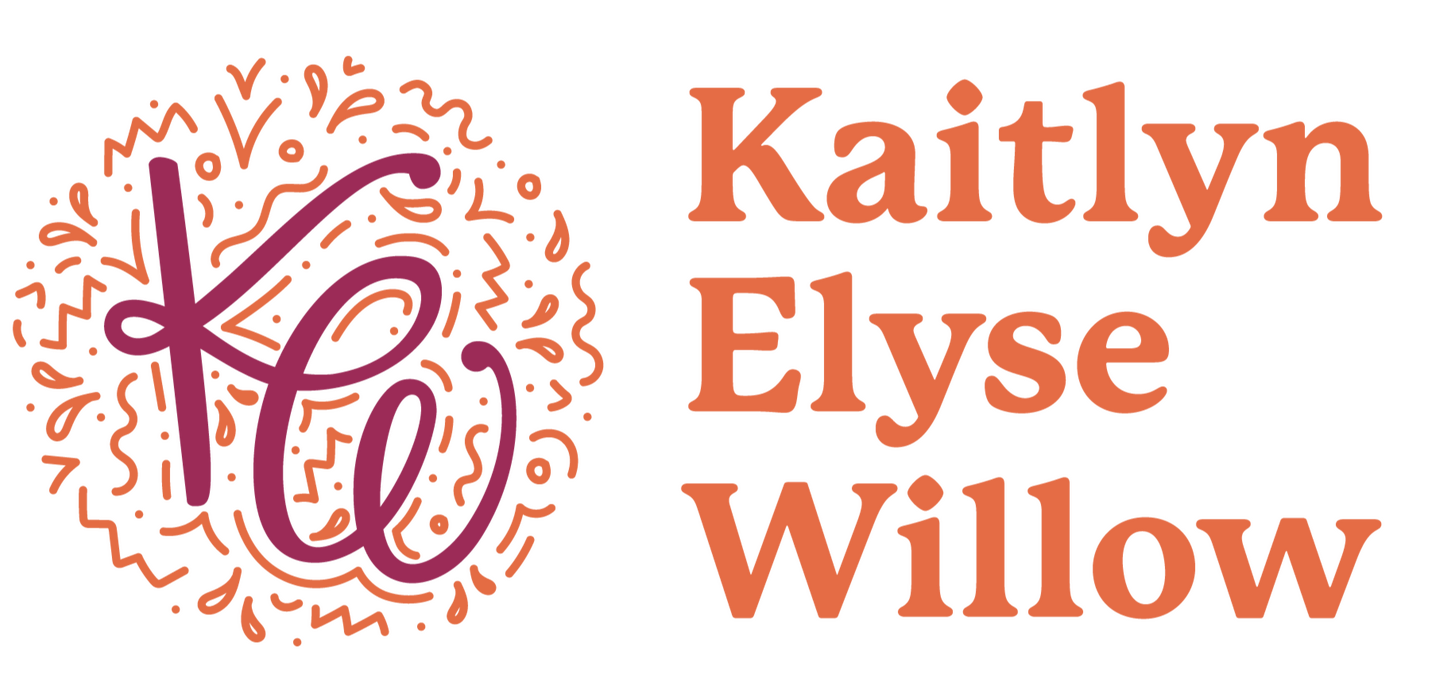 Multidisciplinary Artist & Designer
Kaitlyn Elyse Anderson is a multidisciplinary artist and graphic designer whose work focuses on incorporating typography and illustration into maximalist and large format pieces around the human experience of embodiment and her own experience of sexual assault.What it means to be human largely resides around how we feel in our bodies and how history, culture, religion and media tells us to see our bodies. After finding freedom and healing from her formative years raised in a toxic evangelical religious environment, health battles and her experience of assault in 2018, Kaitlyn's work is about the intimate journey of re-writing these stories for their own body and the freedom that comes along with reclaiming her voice.
Temple Floor
Details: 2022 | Digitally Illustrated Vinyl on upcycled lightbox, LED Lights | 16"x31" | ~12 lbsA goddess silenced and demonized after being sexually assaulted...her curse becomes her protection. A mother conjured from his side blamed for the fall of the humanity...her curse to feel deeply.What if these stories aren't as simple as they appear? Inspired by a retelling of the Greek myth of Medusa and reclaiming of the biblical story of Eve, Temple Floor takes the ideals from Paul's letter to the Corinthians and flips the script: exploring the intricacies of conflicting expectations for bodies borne to carry the weight of the world through digital illustration of a non-conventional goddess form: naked, fat and limbless. To be a woman is to live in contradiction: shoulder the weight of the world but appear weak, bare responsibility to give life but not get a choice in the matter, to remain pure and virginal but keep yourself desirable.The co-mingling of Greek and Judaeo-Christian culture still root in our consciousness today. Idealized and sexualized versions of "healthy bodies" are placed on pedestals for all to covet and strive towards while actual Healthcare is not within reach for most—not outside of the modus operandi of Capitalist exploitation. Purity Culture has poisoned the well of American Culture, telling young girls that the abuse and sexualization of their bodies is their own fault, protecting the predatory abusers who are their brothers, fathers, friends, pastors, and lovers.Temple Floor is ultimately about reclaiming our bodies from the religious, patriarchal and capitalist ideals that have the capacity to squeeze us so tightly that we are unrecognizable...even to ourselves.Visual Description: Blocky illustration of a naked femme body without a head, hands or feet with a protruding belly standing upright and leaning slightly back. Rays of light are protruding around where her head would be—almost as a halo—and a long snake with large spots is wrapped around her body with its mouth open and hissing tongue out off to the right. The words "my body is not a temple" are written on to the left of her thigh in a thick blackletter font. Digitally illustrated and cut out of vinyl, applied to a rectangular framed light box illuminated internally with soft white light. Each edge and cutout of the illustration glows almost supernaturally.Font: Canella Blackletter by Miguel Reyes via Commercial VaultThis piece is currently for sale and can be picked up from my Chattanooga Studio. If you are from out of town and would like this piece shipped to you, please use my contact form below.
Silence Chapel
Details: 2021 | Digital Illustrated Vinyl on Upcycled Window, LED Lights | 32"x65" | 80+ poundsSilence Chapel is a large scale mixed media art installation piece featuring digital illustration printed vinyl applied an upcycled window, lit from behind with LED lights to mimic the look of stained glass. Silence Chapel is the long-awaited follow up to my Rebuild series, incorporating religious imagery and the feeling of being "in church" juxtaposed with words "my body will not be silenced."
I found my voice when I decided to tell the truth about my sexual assault. In the process, I uncovered the true condition of not only my blood family but my spiritual family who were more concerned about my silence than my healing. I am joined by many survivors of religious abuse who have been told to never speak of their experiences for fear of "leading others astray." Silence Chapel espouses this tradition and paves a way for a new awakening of survivors to Rebuild their lives, tell their stories, and find their freedom.Silence Chapel started as a crazy idea in my head to create a large format graphic and typography focused stained glass piece. I had no idea how I was going to accomplish the execution, but I started looking for the perfect window. One day, I was at my local ReStore and found a large arched window leftover from a building project. I was able to get a good deal on the window and I crammed it into my car and excitedly drove home.From there, I started sketching out some motifs for the piece and working to find phrasing that fit what I was going for. Building off of the momentum from my 2018 debut series Rebuild, I started to think more about how my relationship with my family and my church community shifted after my sexual assault. When the ashes settled, I found that I was left to fend for myself, those who told me that god would never leave me actually deserted me.For the pattern of the stained glass repeated on the top and bottom of the typography, I pulled some inspiration from a 2018 trip I took to Italy, namely a marble altar in Chiesa San Pietro in Vincoli in Rome. I wanted to feature a motif of an angelic figure, but with a body like mine to immortalize in the piece. My "fat goddess" motif was born.After sketching out the whole piece, I decided the best way to execute the piece was to have it printed at size on semi-transparent vinyl and hand apply it to the window, trim down the vinyl and then light the piece from behind. This was not an easy or quick process, but was so worth it.This piece is currently for sale and can be picked up from my Chattanooga Studio. It is not available for shipping at this time.
Rebuild: Finding Our Voice
Details: 2018 | Digital Illustrated matte poster prints hand-applied to a 16x20 wooden frameRebuild Series is a set of 3 digitally illustrated lettering pieces with the words of sexual assault survivors the moment they came back to their own power, displayed in a maximalist style lettering and illustration.Power is a fragile commodity. It can be taken in a moment, yet takes years to rebuild. To lose your power is to lose part of your identity. I know the pain of losing my power in a moment of helplessness. Fear gripping my body, being out of control of what happened next. I am joined in my pain by an entire community of incredibly strong human beings who have been through the darkest valleys and have made it to the other side. These pieces are real words from sexual assault survivors who have had their power taken from them in an unspeakable moment.From then on, we have been fighting to survive, to rebuild the shell of who we used to be. Part of regaining your power is finding your voice again. I believe these words symbolize the exact moment their authors realized their power was never gone in the first place, just buried under layers of trauma.Jessica found her voice as she addressed a courtroom with the backing of 160 other survivors: "every day I am fighting to be me again"Emily found her voice in a letter she wrote to her abuser: "you took away my voice until today"I found my voice when I decided to tell the truth. "I believe my body she has never lied"I dedicate Rebuild to the words of survivors because these words are our survival, our power, and our freedom. This is our story. This is my story. Believe us.These piece are currently for sale and can be picked up from my Chattanooga Studio or shipped to you at cost. If you need a quote for shipping, please use my contact form below.
Currently on Display | Future Events
Past Exhibitions
IN BLOOM: A Creative Collective
Clearstory Arts | 1673 S Holtzclaw Ave | Chattanooga, TN
April 14 - May 29, 2022 | Opening Reception: Friday May 6, 5:30-8:30 PM
---
A Woman is a Riot
an evening celebrating the power we hold within our bodies.
Wavelength Space, 854 McCallie Avenue
Saturday, February 19 from 6pm-9pm (one night only)
Rebuild | Silence Chapel (solo show)
Williams St. Gallery
1405 Williams Street | Chattanooga, TN
Friday, November 6 | 6:30-10:30 PM
AVA Pop-Up
Association for Visual Arts, 30 Frazier Ave Chattanooga
April 22-25, 2021
Interested in purchasing an original artwork?
All of my originals are for sale to private collectors, businesses or museums. Available pieces are also able to be reserved for shows by using the contact form below. If you would like to commission a piece from me, please contact me below!
Get in touch with Kaitlyn
Please use the form below to contact me with inquiries about shipping installation pieces, hosting my art in your gallery, space or business, or commissioning an original piece. I usually respond to emails within 2-3 business days.